You already know that you will visit one of the most beautiful islands of Greece. However, just to make sure, here are just a few of the amazing beaches and activities there will be waiting for you in Lefkada!!!
Of course, there are many more attractions than these, for which we will be glad to inform you once you are here,  helping you design your holidays and have a truly good time to remember for long afterwards!
BEACHES
Egremni
OK, we are not talking about a beach here, but about a small paradise in Lefkas!
The colour of the water, the scenery, the endless blue, the perfect tiny pebbles on the beach, the one and only beach bar… A definitely should visit. while in Lefkas.  However take note of the following: reaching it would be rather difficult since the road is quite narrow and steep and then you need to climb down 357 steps. Take only the necessary with you. Nudists often make their appearance there while topless swimming is very common. My own personal opinion is to visit the beach regardless of the difficulties presented by the road since it is one of the best in Lefkada. You will not regret it I promise! Keep that in mind, while driving to get there on the rural part of Lefkas.
Porto Katsiki
Sooooo, let's talk about Porto Katsiki which is considered one of the best beaches in Lefkada and in the Mediterranean Sea.
Sandy and always crowded during the summer. It may be difficult to find a parking space or even a space for your umbrella. If you like noisy beaches this should definitely be your first choice of all the beaches in Lefka 's island. Bear in mind that topless swimming is quite common.
Gialos
If easy access is what you are looking for though in Lefkada, we recommend you to go to Gialos, a wonderful beach full of pines and crystal clear waters.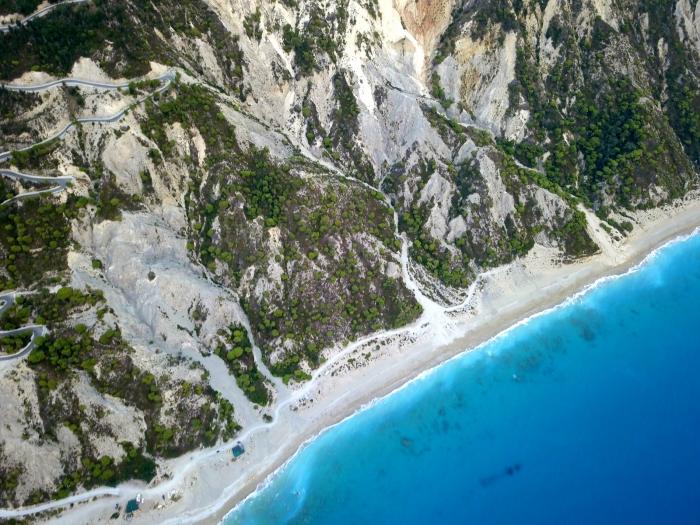 Kathisma
The most popular beach of Lefkas' island!
Beach bars and restaurants, it is the place to go if you are into partying and don't bother large crowds. The beach is covered with pebbles while inside the sea the floor is sandy. One of the best beaches in Lefkada, but always check if there is wind as it can get really wavy.
Mikros Gialos
Also known as Poros or Rouda, this peaceful beach on the south side of the Lefkada is truly a unique place.
Having always calm and amazingly colourful waters, Mikros Gialos that contains from thin sand to medium-sized pebbles, water activities to enjoy and easy access as you park right above the beach, makes it the ideal choice for families. The small taverns and cafes with their delicious meals and drinks, as well as the green scenery all over, is the final touch in your next favorite spot in Lefkada!