Bikini Apartments
1. PROPERTY
Freshly opened in 2019, a unique 4 keys property willing to offer a comfortable & modern space in front of a setting
Neither a trendy villa or stylish serviced apartments and yet the both of, BIKINI is located within minutes from the beach and capital of Lefkada. The most accessible hipster aparthotel in Kariotes offers a stylish and comfortable staying which has been meticulously designed to include everything you want – regardless of your length of stay. We offer you 6 apartments to choose from, all designed and decorated with great attention to detail.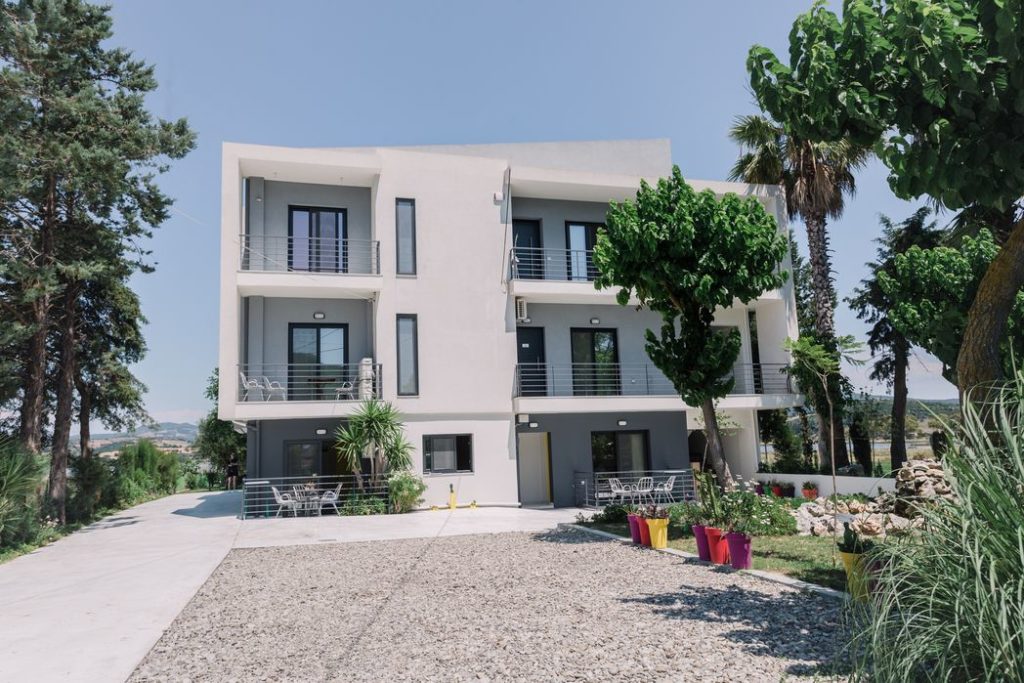 Each space has its very own character and approach, yet all of them can offer our customers a super comfortable stay with a range of available facilites. Furnished with original design objects supplied, our rooms invite you to share, enjoy and create memories.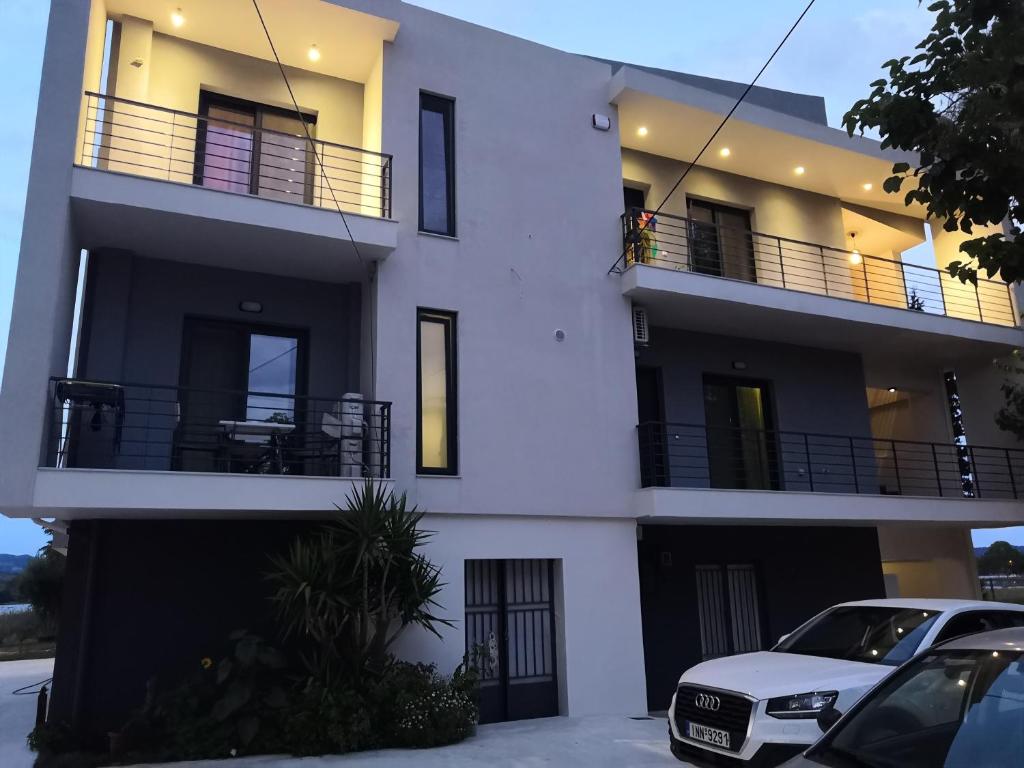 2. ROOMS
BIKINI is a unique space, designed to offer you an unforgettable experience. we provide apartments suitable for families/couples or group of friends. Our purpose is to offer to our quest convinient staying in a  modern setting.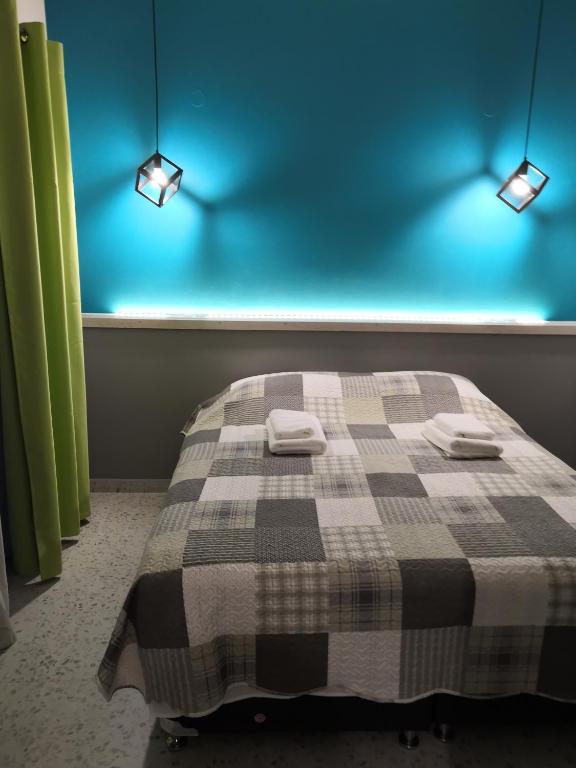 Its vivid character includes modern colors, romantic curves and white linear details. Each 2 space apartment  consists of a bedroom with a double bed , a living room with 2 sofa beds, a bathroom and a green private balcony. The most interesting about the identity of the room is the mix of materials and colours; raw walls with lacquered furniture, plywood with mosaic, ethnic with Bauhaus.
3. ROOMS DETAILS
Intelligent Design
Although our suites are a tad smaller than your typical serviced apartment, they have been designed to feel a lot larger.  We agree that space for the sake of space alone is worthless.  For this reason, we have assembled your space to include the necessities:
Super fast free WiFi
led TV
BIKINI Dream Bed
Fully equipped kitchen (including utensils & dishes & dishwasher)
Big windows (lots of natural light)
Sofa beds that are exactly like normal beds
Interconnecting Rooms (for those who like to share the space but not the bed)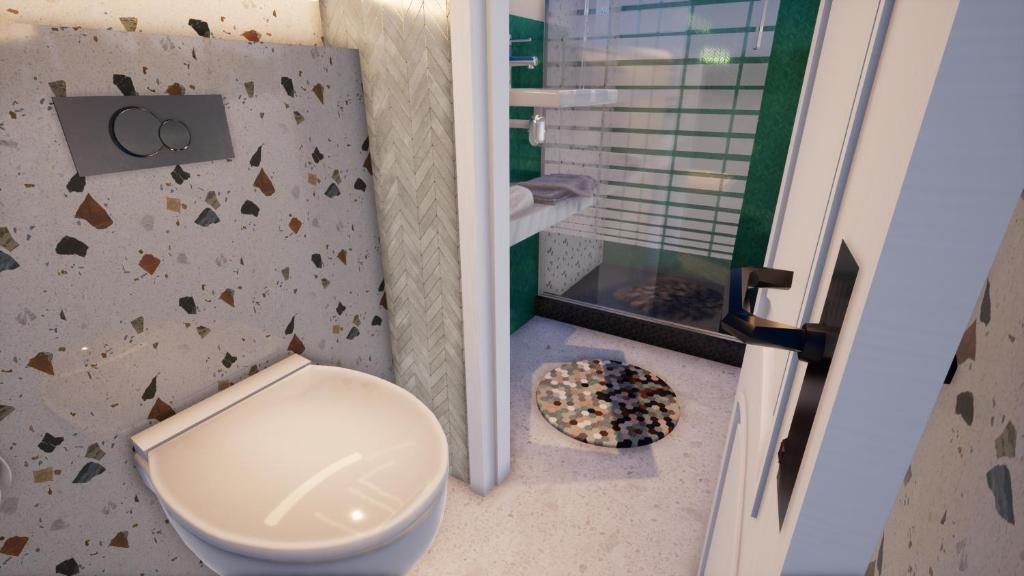 4. LOCATION
Conveniently located in Kariotes, next to the capital of Lefkada but in the same time in a quiet and relaxing setting and a short walk from the seaside.
The view is unique with lush greenery on one side and the deep blue lagoon on the other.
Offers easy access to locations of cultural interest, beaches, the famous Nydri waterfalls and unique historical churches.
Bikini's situated in front of Lagoon of Stena and Alykes in Lefkada. This area is one of the most important wetlands of the Ionian Islands and has been enlisted in the Natura network. The region is important due to the flora – with most representative species the Arenarialeucadia – for the overwintering and the passing of aquatic birds, as well as the existence of other vertebrates, such as the lizard Lacerta trilineata and the snakes Colubernajadum and Natrixtessellata. A great number of aquatic birds spends the winter in the lagoons, as it is one of the few wetlands in Greece where hunting is restrictions are applied in practice.
DISTANCES
100m from the sea
800m from the beach
800m from "NV" Beach Bar
700m before the landing dock of small vessel
1km after Lygia village (there is a harbour)
3km after Lefkada town
12km before Nydri resort
20km from the "Preveza-Aktio" airport (PVK)
EAT, DRINK, DISCOVER
400m from  Zimis Handmade dough products24H  free DELIVERY for our customers , breakfast pizzas salads spaggetyetc
3 km from panos watersports & fun park ,lugia
Boat rental-Waterskiing lessons-Wakeboard Lessons
800m from  KANIORIA RESTAURANT one of the few restaurants you can try original Lefkadian recipes
Reservation is needed, trust me!